In this episode of the Golden Age of Comic Books Podcast, we discuss the Golden Age Hawkman from DC Comics. Hawkman made his first appearance in Flash Comics #1 (January, 1940) and was written by Gardner Fox and drawn by Dennis Neville. Neville left the series and the great Sheldon Moldoff took over the art chores with issues #4. In 1945, Joe Kubert further defined the character was his excellent artwork starting with issue #62. Hawkman (Carter Hall) and his fiance and later wife, Shiera Sanders Hall (a/k/a Hawkgirl) had many great adventures in the Golden Age pages of Flash Comics and All Star Comics as regular members of the JSA. Hawkman last appeared in the Golden Age in All Star Comics #57 (February/March, 1951). He was later revived as a Silver Age character in the pages of The Brave and The Bold and eventually got his own Silver Age title.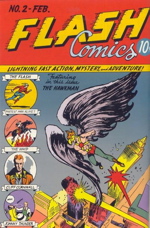 In this show, I also mention the great new Masterworks from Marvel, Atlas Era Heroes Featuring Marvel Boy, Human Torch, Captain America & Sub-Mariner. This is a great book featuring some hard-to-find reprints of Atlas superhero revival stories. This book is approximately 290 pages and retails for $54.99.
Don't forget to check out our ComicSpace site!
Audio clip: Adobe Flash Player (version 9 or above) is required to play this audio clip. Download the latest version here. You also need to have JavaScript enabled in your browser.
Podcast: Download (Duration: 29:05 — 13.5MB)