Here's my final "Comics Then" column that was prepared for the now defunct Comics Now! magazine.  This column was to have been in an issue celebrating Black History Month, and I chose to write about the great Matt Baker.  Enjoy!
Comics' First Great African American Artist
In my last "Comics Then" column, I focused on some of the events leading to comic book censorship and the creation of the Comic Code Authority.  Indeed, when most comic book fans hear the name "Fredric Wertham" they immediately have sour thoughts of comic book censorship because they are aware of Wertham's attack on the comic book industry and his infamous book, The Seduction of the Innocent (Rinehart, 1954).  But did you know that there is a connection between Wertham's book and the first African American to draw comics during the Golden Age of Comic Books?
While Wertham attacked many aspects of late 1940's and early 1950's crime and horror comics, he spent an entire chapter in Seduction of the Innocent (Chapter 7, "Bumps and Bulges") discussing the portrayal of women in comics.  One of his pictured examples of "bad comic books" has become the most recognized Golden Age comic book cover featuring "good girl art" (the depiction of a strikingly beautiful woman, with emphasis on her female form and features), Phantom Lady #17 (April, 1948).   This cover, and many like it, was drawn by the great African American comic book artist, Matt Baker.
 Phantom Lady was a creation of the Iger Studio for Quality Comics, and was originally drawn by Allen Peddy and others in a manner that today would hardly be described as "good girl art".   She first appeared in Police Comics #1 (August, 1941) and was a regular in that title until her series ended in issue #23 in August, 1943.  After a 4 year hiatus, the character was repackaged by Iger for the Fox Feature Syndicate, where she made her debut in Phantom Lady #13 (August, 1947) (this title had been Watalife Comics up to that point).  It is in this issue where the great Matt Baker took over the character and worked his magic.  Not only did Baker make the character a much more voluptuous super hero, he also changed her costume from a yellow and green one piece outfit, to a skimpy blue and red costume with a plunging neckline.  The character's popularity soared under Baker's hand, and continued until 1949 when Fox ceased operations.  In 1956, DC Comics acquired the rights to the Fox characters and has published several incarnations of Phantom Lady since reintroducing her in the pages of Justice League of America #107 (October, 1973).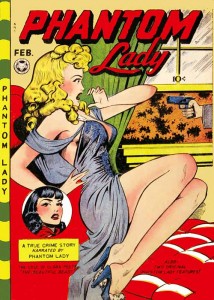 While records from the Golden Age of comic books are not very detailed, it is believed by some that Baker was the first African American to draw comic books.  Baker was born in 1921 in North Carolina, and began drawing comics in the 1940's.  He was educated at Cooper Union in New York and did his first comic book work for the Iger studio.  Because the studio packaged comics for various publishers, Baker's work appeared in the titles published by Quality, Fox, Fiction House and others.  He even drew Lorna Doone for Classics Illustrated in 1947, his only work on that title.  In addition to Phantom Lady (also appearing in All Top Comics), Baker's "good girl art" can be found in such titles as Jumbo Comics, Sheena, Queen of the Jungle, Jo-Jo, Rulah-Jungle Goddess and others.  He is credited with such characters as Sky Girl, Flamingo, South Sea Girl, Glory Forbes, Tiger Girl, Mysto of the Moon, Mitzi in Hollywood and others.  Notably, Baker is also credited with creating the first graphic novel in comics for St. John with It Rhymes with Lust, published in 1950.  St. John called the title a "picture novel" and the entire issue by Baker was devoted to one story (This graphic novel was reprinted in its entirety by Dark Horse in March, 2007).
Fans of Baker's work don't just associate him with Phantom Lady and other work out of the Iger studio.  Indeed, Baker's greatest volume of work probably resulted from his tenure at St. John where he was art director for a couple of years in the early 1950's.  While at St. John, Baker produced well over 200 covers, and stories for many romance titles such as, Teen-Age Romances, Pictorial Romances, Wartime Romances and Diary Secrets.  While at St. John, he also worked on another of his memorable characters, Canteen Kate, who appeared in many humorous adventures in Fightin' Marines, Canteen Kate and Anchors Andrew.   Kate was both sexy and funny, wearing a USMC uniform more suitable for pin ups than for military duty!
Later in the 1950's, Baker left St. John and is credited with a large volume of work on Atlas' romance comics, Love Romance, My Own Romance and others.  He also worked on several western comics for Atlas such as Gunsmoke Western, Western Outlaws, Quick Trigger Action, Frontier Western and Wild Western.  Baker also did a couple of stories for the "pre-hero" Atlas titles, Strange Tales (#58, May, 1957) and Tales to Astonish (#2, March, 1959).
His "good girl art" was prominent throughout all of his work, and his covers from the 1940's and 1950's are striking, stressing the beauty of the women depicted, regardless of the situation they were in at the time.   Issues of Phantom Lady, All-Top, Seven Seas, and others with Baker covers are highly sought after by collectors.
Baker died of heart failure in 1959 (he had suffered from a heart condition most of his life), and with his passing one of the truly great comic book artists to come out of the Golden Age was lost.  As an African American in an industry that at the time was almost exclusively dominated by white males, Baker was a trend setter, being accepted in the industry among his peers because of his great skill as an artist.
Some great resources about Matt Baker went into the creation of this column.  First, Alberto Becattini's and John Benson's articles in Alter Ego #47 (April, 2005) provide invaluable information on Baker's life and career, including a complete index of Baker's work by Becattini.  In the same issue of Alter Ego, Jim Amash interviews Baker's nephew and half-brother to provide a rare glimpse into Baker's personal life.  I also had fun perusing Benson's book, Confessions, Romances, Secrets, and Temptations – Archer St. John and the St. John Romance Comics (Fantagraphics, 2007).  Benson is truly the expert on all things related to St. John's romance comics.  Last, and certainly not least, Michelle Nolan's, Love on the Racks (McFarland & Company, 2008) is the ultimate guide to the history of American romance comics, and contains information about Baker and his work in the romance comics of various publishers.  I would highly recommend all of these resources to anyone interested in Baker and romance comics, generally.