In 2007 while we were at Heroes Con in Charlotte, NC, Bryan Deemer of Comic Geek Speak asked me to write a column about the origins of our modern comic books and comic book characters in his new magazine, Comics NOW! I was honored, and suggested the title "Comics Then" for the column. Bry agreed, and we completed the first three issues. The columns that appears in those issues are below.
Comics Then #1(Fall 2007) featuring Superman.
Comics Then #2(Spring 2008) featuring Batman, Robin and Golden Age time travel.
Comics Then #3(Summer 2008) featuring the Batman Origin Trilogy.
Unfortunately, Comics Now! ceased publication after three issues. This was really a shame as Bryan Deemer and everyone else involved in this effort created a first class publication. In anticipation of issues four and five, I had written two additional "Comics Then" columns. As they were never printed in a future edition of Comics Now, I published them on this blog. You can read these columns by clicking the links, below.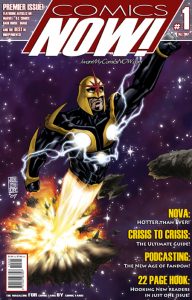 These files are PDF format, so you will need Adobe Acrobat Reader to view them.
Comics Then and the contents of each column published here under said title are Copyright © 2007-2009 William F. Jourdain.