Back in August of 2010, I mentioned the release of Batman: The Brave and the Bold Season One, Part One on DVD.  I was pleased to see Warner announce the release of part two of this series. Batman: The Brave and the Bold, Season One, Part Two.
This is another fantastic collection of the great hit series from Cartoon Network.  If you are a fan of some of DC's great heroes teamed-up with Batman, you need to check this out. You'll even find a team up between Batman and Sherlock Holmes!  I really love this series from WB.
This two-disc set features the following episodes:
Disc One
Mystery in Space!
Trials of the Demon!
Night of the Huntress!
Menace of the Conqueror Caveman!
The Color of Revenge!
Legands of the Dark Mite!
Hail the Tornado Tyrant!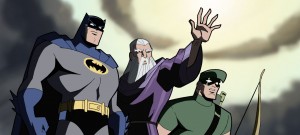 Disc Two
Duel of the Double Crossers!
The Last Bat on Earth!
When OMAC Attacks!
The Fate of Equinox!
Mayhem of the Music Meister!
Inside the Outsiders!
This set retails for $19.99 but can be found discounted at Amazon and other online retailers.  The set will be released on March 15, 2011, so don't wait to own it on DVD!
Thanks to Warner Brothers for sending me a copy for review.