The 44th episode of the Golden Age of Comic Books Podcast has been uploaded. I'm not sure how, but I actually went over an hour on this show, probably the longest GAC episode to date. The main focus of the show is The Golden Age Daredevil who got his start in Silver Streak Comics #6 (9/40) and who ultimately got his own magazine with the publication of Daredevil Battles Hitler in July, 1941.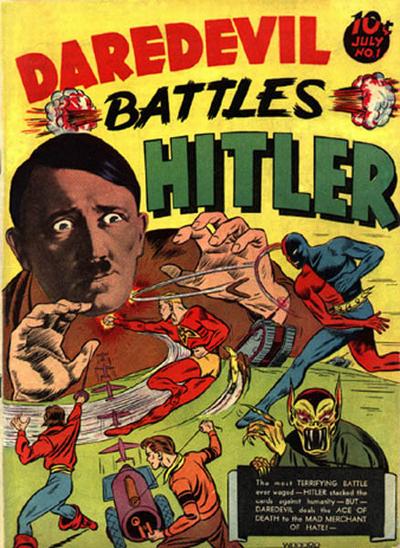 This episode also features the return of the Golden Age Market Report. I visited the Heritage Comic Auction Website and learned about the John McGlaughlin Mile High Collection auctioned on September 7, 2006. On the show, I discuss many of the great books sold at that auction. Here are some of the highlights:
We also revisit our discussion of Kryptonite and I mention the excellent summary of the strange metal found at the Bob Rozakis site where he publishes, "BobRo the Answer Man."
I was honored to have Bruce Rosenberger of Komics Kast provide a segment on the original Superman strips that appeared in newspapers around the country for 27 years. Bruce wanted me to mention thespeedingbullet.com as a source for more information about these strips. Thanks, Bruce!
I also discuss the newShazam Family Archives volume 1 from DC Comics. This book focuses on the Adventures of Captain Marvel Junior from Master Comics, and also has the origin and first appearance of Mary Marvel from Captain Marvel Adventures.
Audio clip: Adobe Flash Player (version 9 or above) is required to play this audio clip. Download the latest version here. You also need to have JavaScript enabled in your browser.
Podcast: Download (Duration: 1:01:59 — 28.5MB)