In the 45th episode of the Golden Age of Comic Books Podcast, we talk about the Hangman who was created for MLJ Comics. The Hangman first appeared in Pep Comics #17 (July, 1941). He came into being after the death of The Comet, another MLJ Superhero who got his start in the pages of Pep Comics #1 (January, 1940). The Comet was the first superhero to die in the Golden Age of Comic Books. As the story goes, the Hangman's origin flows directly from the death of The Comet. At the end of the story the Hangman exclaims, "And now, I'll carry on his work! The Comet has died, but his spirit lives on…in the Hangman! Beware criminals, you cannot outrun your own conscience…nor escape the gallows!" You'll find all of the details in the podcast! You can find reprints of all of the Hangman stories at Goldcomics.com.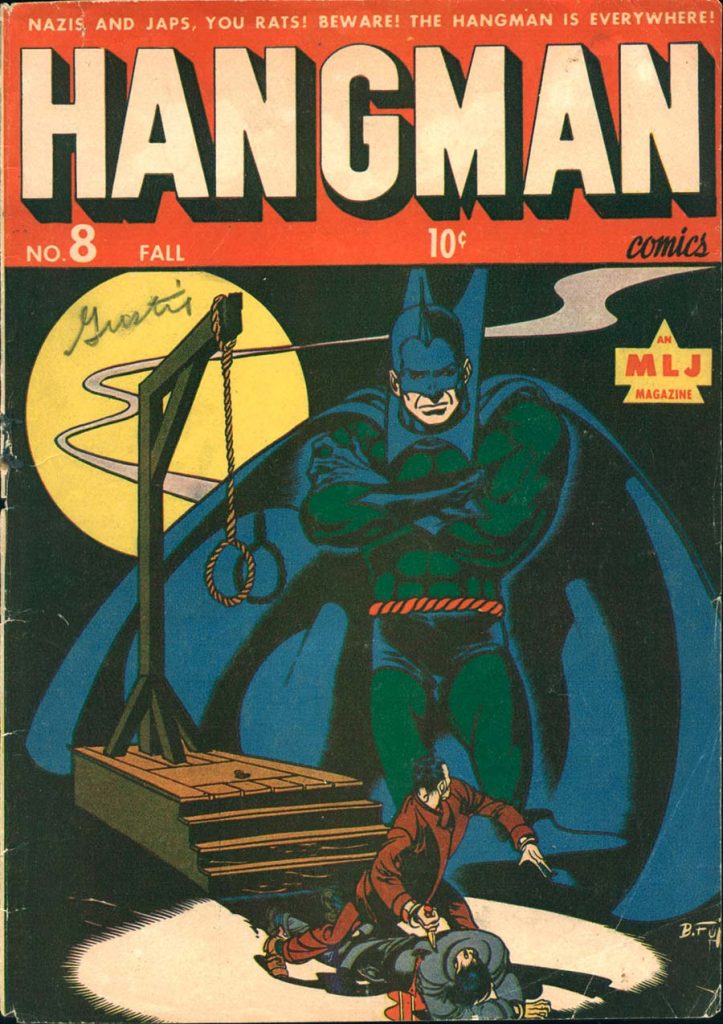 I mention the new collected edition, Disney Comics: The Classic Collection. This hard cover edition (complete with plastic dust jacket) reprints the following stories from the pages of Four Color Comics:
Four Color (1st series) #17 – "Dumbo the Flying Elephant" (1941)
Four Color (2nd series) #12 – "Bambi" (1942)
Four Color (2nd series) #49 – "Snow White and the Seven Dwarfs" (1944)
Four Color (2nd series) #331 – "Alice in Wonderland" (1951)
Four Color (2nd series) #446 – "Peter Pan" (1953)
This is a great collection for the fan of Disney movie adaptations and movie related comic books from the Golden Age of Comics.
We also have a Golden Age Market Report where we discuss the Davis Crippen "D" copy collection of 11,000 Golden Age comics from many genres. The collection was amassed by Mr. Crippen and was provided to Heritage Comics Auctions this year for sale during its August 12, 2006 auction. Some of the notable sales:
I hope you enjoy the show!
Audio clip: Adobe Flash Player (version 9 or above) is required to play this audio clip. Download the latest version here. You also need to have JavaScript enabled in your browser.
Podcast: Download (Duration: 31:54 — 14.7MB)