Happy Thanksgiving! In the 47th installment of the Golden Age of Comic Books Podcast, we discuss the Golden Age Doll Man published by Quality Comics. Doll Man first appeared in Feature Comics #27 in December, 1939. He was first written by Will Eisner under the pen name, William Erwin Maxwell. His earliest adventures were drawn by Lou Fine and later by Reed Crandall. Doll Man ran in Feature Comics until issue number 139 in October, 1949. His title, Doll Man Quarterly (later, Doll Man) ran from its first issue in the Fall of 1941 until issue number 47 in October, 1953. For some strange reason, there was a three-year gap between issue 7 (Fall, 1943) and issue 8 (Spring, 1946). Issue number eight is also well-known for its introduction of Bill Ward's Torchy. Doll Man (along with other Quality characters) was purchased by DC Comics and brought back as the Freedom Fighters on Earth-X in the pages of Justice League of America nos. 107 and 108 in 1973, and in their own title, Freedom Fighters that ran between 1976 and 1978.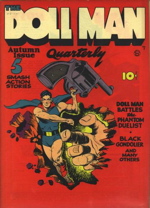 Doll Man market report from Heritage Auction Galleries:
Feature Comics #27 (First appearance of Doll Man)
Feature Comics #30 (first Doll Man cover appearance – from the Lamont Larson Collection)
Feature Comics #s 40-51 in bound volume
In this installment of GAC, you'll find a surprise segment, but you'll have to listen to the show to learn more!
Don't forget to visit the auction of original Marvel Comics art recreations at Michael Kelleher's website. The proceeds from this auction will go to benefit the Hero Initiative.
Enjoy the show!
Audio clip: Adobe Flash Player (version 9 or above) is required to play this audio clip. Download the latest version here. You also need to have JavaScript enabled in your browser.
Podcast: Download (Duration: 47:07 — 21.7MB)