Merry Christmas! For the 48th installment of the Golden Age of Comic Books Podcast, I discuss three of my favorite Golden Age Christmas Stories. I start with "Christmas Around the World!", the Superman story from Action Comics #93 (February, 1946). In this story, Superman travels the world on Christmas eve reuniting refugee children with their parents. In his role as Santa, Superman manages to cover the four corners of the globe with Lois Lane, four gliders, a sleigh and reindeer in tow! This is a classic Superman story written by Don Cameron and drawn by Ira Yarbrough and Stan Kaye. This story has been reprinted in Superman in the Forties.
I then move on to another Christmas tale written by Don Cameron, pencilled by Bob Kane with inks by Jerry Robinson and George Roussos. This story, "The Loneliest Men in the World!" first appeared in Batman #15 (February/March, 1943). In this story, Batman and Robin decide to bring Christmas cheer to the three loneliest men in the world; a doorman, a radio humorist and a lighthouse keeper. In the end, they bring a vicious criminal to justice while keeping their promise to brighten the lives of these three "lonely" men. This is a classic war-era Batman and Robin story that has been reprinted in Dark Knight Archives, volume 4.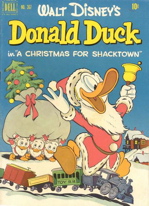 Finally, I talk about one of my all-time favorite Golden Age Christmas stories, "A Christmas for Shacktown!" from Four Color Comic #367 (January/February, 1952). In this story, Donald Duck, Huey, Dewy and Louie, Uncle Scrooge, Daisy Duck, Gladstone Gander and more of the gang, engage in several misadventures that ultimately lead to the gift of Christmas to the poor children of Shacktown. Along the way, Uncle Scrooge nearly looses his fortune, which is saved due only to the ingenuity of Huey, Dewy and Louie and the Junior Woodchucks. This story was masterfully written and drawn by the great Carl Barks.
Of course, I couldn't talk about Christmas stories by Carl Barks without also briefly mentioning "Christmas on Bear Mountain" from Four Color Comics #178 (December, 1947) where the great "Duck Man" introduces Uncle Scrooge to the world.
In addition to talking about some of my favorite Golden Age Christmas stories, I also mention some recently published Golden Age books:
Merry Christmas and Enjoy the Show!
Golden Age of Comic Podcast #48 (Standard MP3 – 25.8 mb – 55:59)
Audio clip: Adobe Flash Player (version 9 or above) is required to play this audio clip. Download the latest version here. You also need to have JavaScript enabled in your browser.
Podcast: Download (Duration: 55:59 — 25.8MB)