Once again, I am pleased that Asgard Press has asked me to be a part of the creative team for the 2017 Vintage DC Comics Calendar. As in past years, the 2017 offering has some really terrific Golden Age and Silver Age DC Comics covers. In addition to the covers, I have penned the monthly cover descriptions, which contain a lot of great historical information about the titles and characters.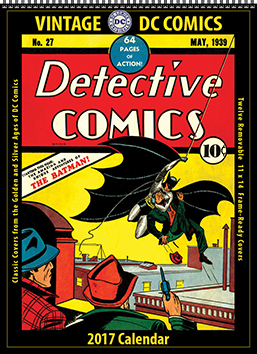 These calendars are environmentally friendly, having been printed on recycled paper with soy ink. Each cover is perforated for easy removal from the calendar and suitable for framing. They are perfect for your comic book themed room!
Asgard Press has a large number of other cool items on their website, including a 2017 Marvel Comics Calendar, so check out all they have to offer! You won't be disappointed.