For me, July 25th 2009 was "Christmas in July" for reasons other than just the date. This weekend, I picked up a number of Golden Age (and pre-Golden Age) comic books, many of which were "Christmas" themed. In fact, some of these issues are the oldest comic books I own.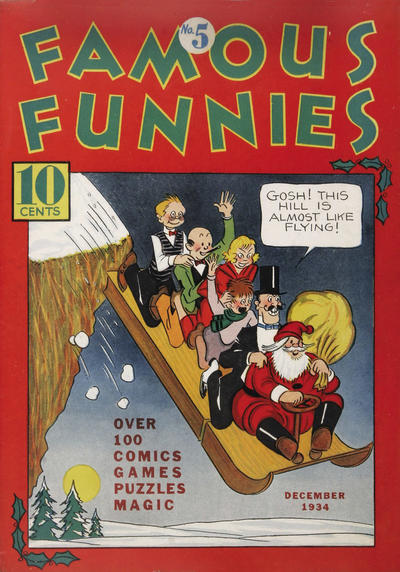 The highlight of my "summer Christmas" was acquiring copies of Famous Funnies 5 through 10, 17 and 29. As many of you may know, Famous Funnies (published by Eastern Color) was the first monthly newsstand comic book, with #1 appearing in July 1934. The early issues of this title are very hard to find, and never in high grade. Issue number 5 has the distinction of being the very first Christmas cover on a comic book. I was therefore very excited to be able to get copies of issues 5 through 10 for my collection. They are not in high grade, but they are complete and a lot of fun to read. Most notably, each of these early Famous Funnies issues contains four pages of early Buck Rogers stories, in addition to many humor features (all reprints of newspaper strips). Issues 17 and 29, represent the second and third comic book Christmas covers. I was very thrilled, and lucky, to get all three. I covered these issues in a previous blog post. (Note that the individual issues pictured in this post are not my actual books, but are courtesy of the Grand Comic Book Database. A photo of my books is included in the gallery.)
To keep the Christmas theme going, from this same collection I acquired a copy of the very first Dell Giant, Walt Disney's Christmas Parade #1. This book was first published in 1949 and continued as a regular Christmas feature by Dell through 1958. It is indeed a "giant", with 132 pages of stories, games, etc. I particularly enjoyed the lead-off story, "Letter to Santa" with Donald Duck and Uncle Scrooge by Carl Barks. I only wish this collection had contained more of these great annuals, but unfortunately, number one was the only Christmas Parade issue to be found.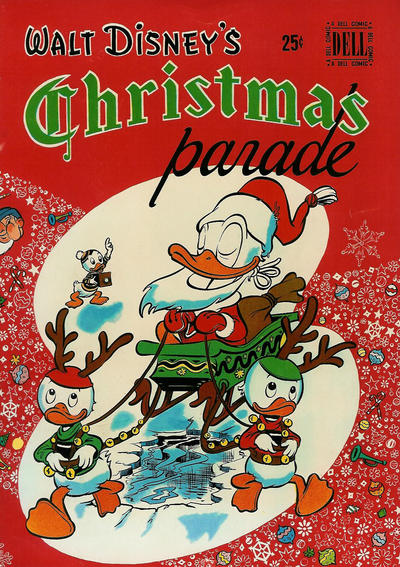 Last in the Christmas themed find were two copies of Four Color Comics featuring "Christmas with Mother Goose" by the great Walt Kelly. These issues (Four Color Comics #90 and #126) feature great Santa covers by Kelly and are a lot of fun to read.
In addition to these great Christmas themed books from the Golden Age, I was also able to fill some holes in my Walt Disney's Comics & Stories run, including the first appearance of the "terrible" Beagle Boys (WDC&S #134) and the first appearance of Gyro Gearloose (WDC&S #140). Issue #140 also features the third Uncle Scrooge cover appearance (the second by Carl Barks).
All in all, July 25 was a great "Christmas in July"!